Waste Collection Bags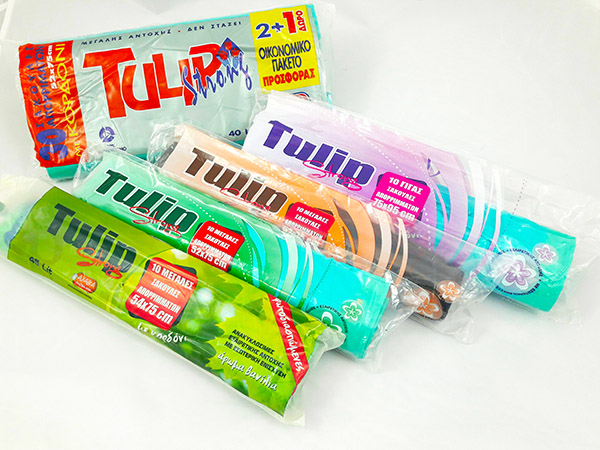 The Waste Collection Bags compose the first and more significant step for the proper waste handling, to maintain top level hygiene conditions at home, office etc. and to keep cities clean as we all wish. Our products provide the best suited solution for every case.
Waste Collection Bags with Draw Tape
The 3-Coex technology used for the manufacture of this Bag, ensures high mechanical strength and perfect seal.
The draw tape ensures an easy, free of odours handling.
Different colours in blue, green, black.
Dimensions according to customer demands.
Six colour prints.
Possibility of perfuming.
Each roll packed either in a luxury printed bag, or folded with a printed Paper label.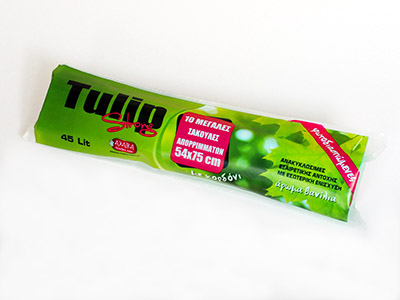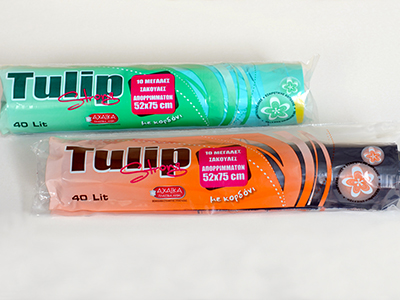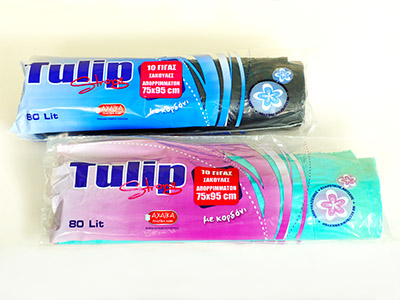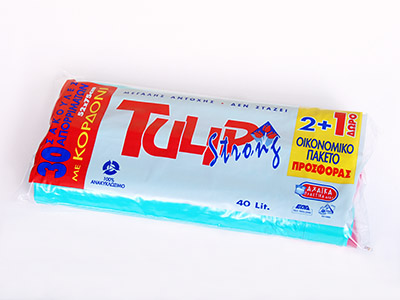 Manufactured with High Density Polyethylene, to ensure the ideal combination of small thickness leading to less material use and mechanical strength.
Dimensions: 45cm X50cm.
Colours: Milky, green and ivory.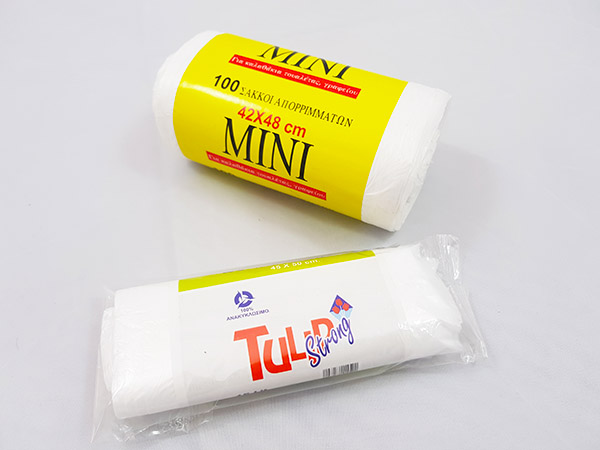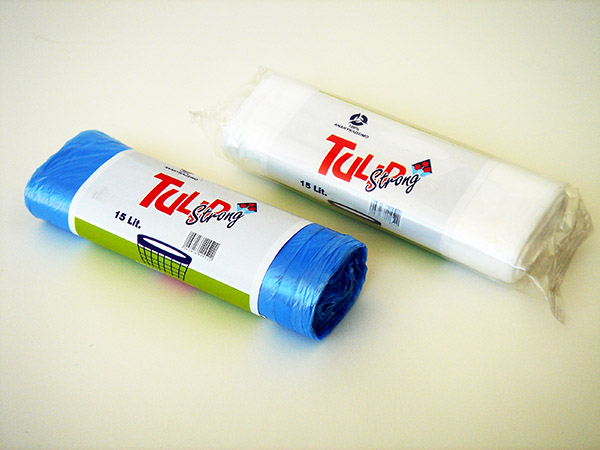 Large Single Garbage Bags
With great respect to environment, we recycle the trims exclusively of our production process and manufacture garbage bags for use in large and medium size garbage baskets.
For heavy duty packaging of heavy and bulky waste.
For use by Municipal and Public gardens authorities.
Possibility of printing with white ink.
Packaged in 20 kgs. packs.
Stock dimensions: 60-40X80, 80-50X100, 80-50X110, 80-50X120.
| | | | | | | |
| --- | --- | --- | --- | --- | --- | --- |
| S/N | | | Cord | | Piec./roll | Package |
| 1 | Tulip Aroma Home Use | 54Χ75cm /17my | YES | Orange | 10 | 40 Rolls/Package |
| 2 | Tulip Home Use | 52Χ75cm /23my | YES | Green | 10 | 40 Rolls/Package |
| 3 | Tulip Home Use | 52Χ75cm /23my | YES | Black | 10 | 40 Rolls/Package |
| 4 | Tulip Economic | 52Χ75cm /15my | YES | Black | 10 | 40 Rolls/Package |
| 5 | Tulip 2+1 | 52Χ75cm /23my | YES | Green | 10 | 15 Packets/Package |
| 6 | Tulip WC-Office | 45Χ50cm | NO | White | 20 | 50 Rolls/Package |
| 7 | Tulip WC-Office | 42Χ48cm | NO | White | 100 | 20 Rolls/Package |
| 8 | Tulip GIGA | 75Χ95cm/25my | YES | Green | 10 | 30 Rolls/Package |
| 9 | Tulip GIGA | 75Χ95cm/25my | YES | Black | 10 | 30 Rolls/Package |
| 10 | Tulip GIGA Economic | 75Χ95cm/20my | YES | Black | 10 | 30 Rolls/Package |
| 11 | GIGA 10 PIEC. | 80-40Χ100cm | NO | Green | 10 | 20 Rolls/Package |
| 12 | GIGA 10 PIEC. | 80-40Χ100cm | NO | Black | 10 | 20 Rolls/Package |
| 13 | Waste Collection Bags Bulk | 60-40Χ80cm | NO | Black | - | 20 Kilos/Package |
| 14 | Waste Collection Bags Bulk | 80-50Χ100cm | NO | Black | - | 20 Kilos/Package |
| 15 | Waste Collection Bags Bulk | 80-50Χ110cm | NO | Black | - | 20 Kilos/Package |
| 16 | Waste Collection Bags Bulk | 80-50Χ120cm | NO | Black | - | 20 Kilos/Package |
| 17 | Waste Collection Bags Bulk | 80-50Χ130cm | NO | Black | - | 20 Kilos/Package |
| 18 | Waste Collection Bags Bulk | 90-58Χ130cm | NO | Black | - | 20 Kilos/Package |
| 19 | 1 Kilo Roll | 50-30Χ80cm | NO | Black | 10 | 20 Rolls/Package |