Stretch Hood
The product (stretch hood) is developed for the automatic packaging, of any kind and weight loads, like industrial sacks, building materials, sanitary items etc, on specialized palletizing equipment. The stretch hood is in the form of rolls with parer core internal dia. 76 mm and 152 mm. The palletizing unit welds the roll bottom, stretches it uni - formly by height, and applies it around the packaged product. By releasing the film, it is firmly tightened on the packaged product.
The advantage of the stretch hood film, compared to the conventional stretch film and heat shrinkable Pallet Hood is the uniformity of the tightening force by height, the lack of the cling layer, the tightening in the absence of heat and of course the strong tightening force.
The stretch hood film is manufactured in 3-Coex Lines, with special category Polyethylenes, thus ensuring the necessary properties and the trouble free operation of the Paletizing Line.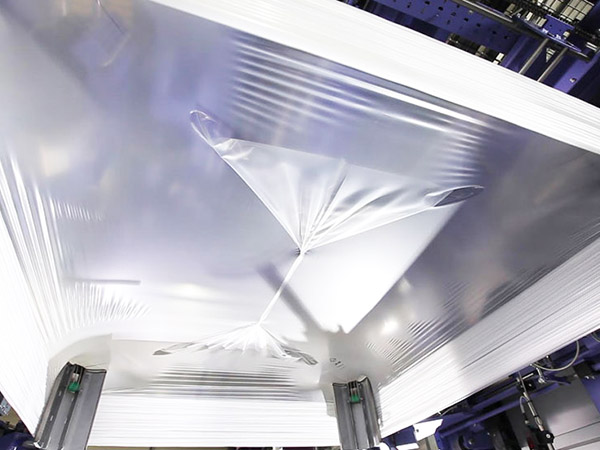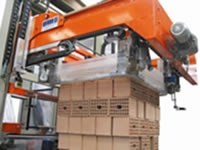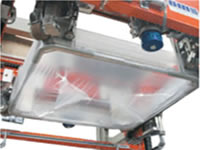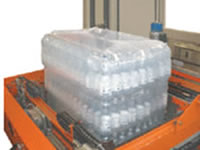 Among the particular characteristics of the stretch hood film are:
UV protection (if requested), 140 Kly (one year at Greek climate).
High mechanical properties for the tightening of heavy loads under hard conditions.
Excellent thickness profile.
Typical roll dimensions:195- 105 cm .Thickness 120 My
Table 1. Trend of use of the three major pallet stabilization and packaging systems.

2004

ESTIMAT. 2008

GROWTH 04-08

SHRINK HOOD

400.000

360.000

-3%

STRETCH FILM

1.100.000

1.250.000

3%

STRETCH HOOD

46.000

96.000

20%
Table 2. Benefits of the various pallet packaging systems

SHRINK HOOD

STRETCH FILM

STRETCH HOOD

HOLDING FORCE

LOW

MEDIUM-HIGH

HIGH

FILM THICKNESS

150-200 My

23 My

80- 120 My

PACKAGING SPEED

LOW

MEDIUM

HIGH

COST/LOAD

HIGH

LOW

LOW

OPTICS

MEDIUM

MEDIUM

HIGH

LIMITED DUE TO HEAT

LIMITED DUE TO HEAT

FLEXIBLE. PREFERABLE FOR INDOORS STOR.

VERY FLEXIBLE